Post-It Super Sticky Notes Each Assorted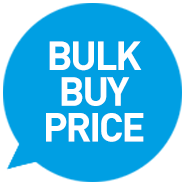 Details
https://www.warehousestationery.co.nz/product/W2130277.html
Buy 5 or more of Post-It Super Sticky Notes Assorted for $4.05 each
Product Actions
---
Product Description
Available in various colours. Each sold separately.
We cannot guarantee which colour you will receive when you buy online.
90 Sheets per pad. Orders will come with random colours. Purchase 18 to receive a cabinet pack of assorted ultra colours.
Features & Benefits
90 Sheets per pad, Sold in Individual Colours.
Super Sticky sticks to virtually any surface, including
glass, plastic, vinyl, leather & metallic surfaces.
Picture misleading.
I thought I was buying 5 different colors of post-it notes but only got one pad, expensive!!! Didn't get to choose color.
November 20, 2018
Purchased
over 3 years ago
great fun, bright colours to choose from - a very handy item :-)
August 23, 2018
Purchased
over 4 years ago