Impact Whiteboard Markers Fine 2 Pack Black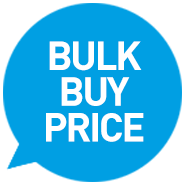 Details
https://www.warehousestationery.co.nz/product/W2213364.html
Buy 5 or more of Impact Whiteboard Markers Fine 2 Pack Black for $5.39 each
Save 30% at checkout with promo code RUO19
Conditions Apply
Save 30% at checkout with promo code RUO19
RUO19 promo code can only be applied to one item per discount bracket. E.g. one product at 20%, one product at 30%, one product at 40% & one products at 50%. See terms & conditions for full details.
-
Product Actions
---
Product Description
Whiteboard markers. Fine. 2 pack. Black.
Features & Benefits
For use on whiteboard and dry erase non-porous surfaces like glass, ceramic etc
Polyester fibre tip
Alcohol based ink
Wipes off with dry tissue
Fine Tip
2 Pack
Black
This is great!
This is a great whiteboard marker! Lasts longer than my other markers.