Impact Ball Pens Sprint Grip 50 Pack Blue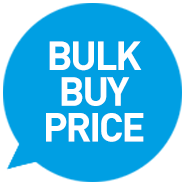 Details
https://www.warehousestationery.co.nz/product/W2213381.html
Buy 5 or more of Impact Ball Pens Sprint Grip 50 Pack Blue or Assorted for $22.46 each
Sitewide Spend and Save - get $5 off every $50 you spend
Conditions Apply
Sitewide Spend and Save - get $5 off every $50 you spend
Exclusions: Online Only up to $2,000, gift vouchers, freight, hireage, repairs, donations, phone top-ups, phone cards, prepaid postal, Apple, television, whiteware, Clearance and insurance policies.
-
Product Actions
---
Product Description
These Impact ball pens have a non-slip sprint grip and a handy pocket clip, so it can be attached easily to a pocket or a notebook and are great for everyday use in schools and office. These come in in blue colour with 50 pens per pack.
Features & Benefits
Blue
1.0 mm medium tip
50 pack
Retractable pen
Clear barrel
Rubberised grip for effortless writing
Pens that don't work
We purchased a pack of 50 atleast 60% of them do not work. Don't waste your money on these pens.
Not very good
Pens quite often fail to write, not a very good product
October 24, 2018
Purchased
1 year ago
ok but can be patchy in writing
September 3, 2018
Purchased
1 year ago