Rethink Your Ink
They say the pen is mightier than the sword. But with such a bewildering selection of pens to choose from, knowing which type works best for your writing or drawing needs can be confusing. Fear not, with this handy guide to the wonderful world of pens, you'll know exactly what to think when selecting your ink.
Gel Pens
The heart of a gel pen is its unique water-based gel ink. The ink is thick, so it works very well on dark and smooth surfaces. Gel pens are ideal for writing and illustration, they come in a greater range of colours than other pens, plus they're super-comfy to use as they require less pressure, putting less stress on your hands.
Rollerball Pens
Like the name suggests, rollerballs really roll across the page. That's due to their liquid ink. It ensures a smooth, fluid action and helps eliminate writing fatigue. No wonder they're the first choice for anyone taking extensive notes, doing exams, or handwriting for extended periods.
Ballpoint Pens
Ballpoint pens put the pen in dependable. That's because they can be counted on as the 'go-to' pen for all your everyday needs. The reliable oil-based ink and metal ball design ensures the fast-drying ink flows to the last drop, without any messy inkblots. Multi-colour retractable ballpoints are an ever-popular choice.
Fineliners
When you need real precision for accurate details and intricate art, the pen to reach for is a fineliner. Their tips are enclosed in a metal sleeve, so they're perfect to use with rulers and stencils. Plus, they're available in a huge range of vibrant colours and tip sizes.
Liquid Chalk Markers
An indispensable pen for creating bold, vivid window displays, cafe menu boards, or anywhere you need to grab attention. They're specially designed to work on glass, glossy surfaces and blackboards.
Permanent Markers
Paper, metal, glass, stone, wood, skin (not advisable), wherever you plan to leave your mark for a long time, a fibre tip permanent marker will do so with ease in a variety of colours, tip sizes, and tip shapes.
Highlighters
When you need to make key passages of text really pop off the page, a highlighter is the pen you use. They come in a great range of super-vivid fluro colours, so you can even colour-code your notations.
White Board Markers
Ever accidentally written on a whiteboard with a permanent marker? Yep, it happens to the best of us. Thank goodness for whiteboard markers. Their removable ink wipes off easily from whiteboards, glass, and non-porous surfaces, making them ideal for boardroom brainstorming sessions, classrooms and group presentations.
Paint Markers
Kind of like a paintbrush in a pen, but with the ability to write accurately in real paint on just about any surface - glass, wood, metal, rubber, fabric, plastic. Available in a great range of colours, tip styles, and sizes.
Pencil Buyer's Guide
Sharpen Your Pencil
2B or not 2B? There are so many types of pencils - B, H, HB, F, 3B, 7H. What does it all mean? Are you planning on writing, drawing, sketching, colouring, shading or even painting with your pencils? With this essential guide, you'll have everything you need to sharpen your knowledge and get right to the point when selecting your pencils.
Graphite & Lead Pencils
There's actually no lead in lead pencils. These days it's a mixture of graphite and clay. The different combinations of these ingredients create a wide range of grades, from hard to sob. It's these grades that allow writers, artists, designers, and students to express themselves with a variety of shading and depth.
Mechanical Pencils
Often housed in a tough plastic or metal body, mechanical pencils won't snap like the wooden ones. Plus, they're refillable with a fine lead that doesn't require sharpening, making them ideal for precision work. They're a popular choice for drawing, drafting and writing.
Coloured Pencils
For most of us, childhood just wouldn't have been as bright without coloured pencils. Their core is comprised of minerals, waxes and colour pigments. Artist-grade coloured pencils contain more colour pigment of a higher quality, they're resistant to fading from sunlight, they can be water-resistant or soluble, plus highly blendable. Pastel pencils and polychromatic pencils with a mix of colours offer you more expressive options.
Watercolour Pencils
These create a very artistic result, similar to watercolour paint. To achieve this effect you can lay down the coloured lead dry onto the paper before activating it with a wet brush or cloth. You'll require the right type of thick art paper to absorb the water and achieve the desired blending and fading effects.
Junior Pencils
To come to grips with drawing and writing, young people need a pencil that's easy to grasp. Junior pencils come in a triangular shape that's just right for little hands to hold. They're also larger and stronger than regular pencils, so they're less likely to break.
Charcoal Pencils
Charcoal has been used by artists for ages to create evocative shading, smudging, shadows and dramatic depth to their work. Charcoal pencils now give artists a cleaner, mess-free alternative to traditional charcoal sticks.
Put Some Lead In Your Pencil
Most pencil makers have adopted the European letter scale to indicate the hardness of the pencil (H), the blackness on the lead (B), plus its ability to be sharpened to a fine point (F). Lead is really a mixture of graphite and clay. To make pencils harder, they have more clay content in their mix. To produce darker, blacker results, they contain more graphite and are sober.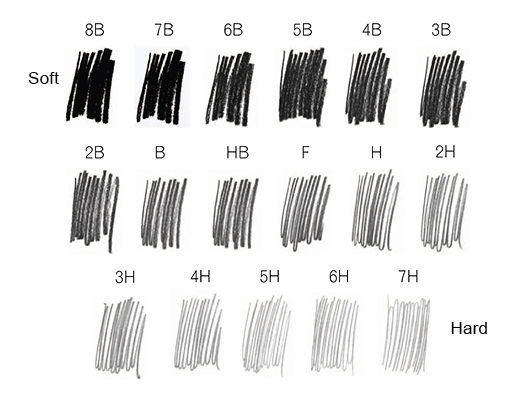 H pencils produce lighter density lines. They're also less likely to smudge. This makes them suitable for outlines, light sketches, and technical drawing. The higher the number on the scale, the lighter it will be.
B pencils are the right choice for creative drawing as they offer a wide range of shading densities. Their sober leads make them easy to work with and they smudge easily for expressive results. The bigger the number on a B pencil, the darker and sober it will be.
Right in the middle of the European scale, you'll find the most well-known pencil of them all, the HB pencil. It's the perfect choice for writing with as it offers an ideal balance between hardness and boldness.