Sustainability at Warehouse Stationery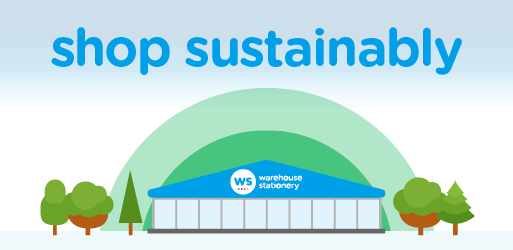 At Warehouse Stationery, we want to play our part by taking responsibility for the impact we have on the environment and steer a path for others to follow. As a leading retailer and supplier of office products and solutions for home, business and education in New Zealand, we take a lifecycle approach to understand our products environmental impact. We offer a wide range of ecofriendly products, making it easy for you to make an environmentally conscious decision. We believe every little bit counts.
Recycled Products
Buying recycled products reduces impacts and helps to conserve our precious natural resources. Products created using recycled materials means they have already been used at least once. The higher the percentage of recycled content, the better it is for the environment.
FSC Certified Products
Purchasing products that are Forest Stewardship Council (FSC) certified, ensures we minimise the use of products sourced from unsustainable forest practices. Choosing FSC-certification products ensures the environmental needs in forest management are balanced to ensure sustainable growth for future generations.
ECO Cleaning Products
Ecofriendly cleaning products are safer for you, your family and the environment.
Improved Packaging
Packaging is ubiquitous, and is used to help sell product because it provides space for sharing information to customers, such as nutritional data, usage or directions. Over the last few decades, plastic has been used in more and more products, hinged around the demand for convenience. This is why we have made it one of our goals to improve packaging, replacing plastic with cardboard where it makes sense, as well as remove all unnecessary packaging.
In-Store Recycling Services
We also offer a range of different customer recycling and sustainability programs across The Warehouse Group. In our Warehouse Stationery stores you can recycle your Ink and Toner Cartridges. Check back often as we are expanding this offering.