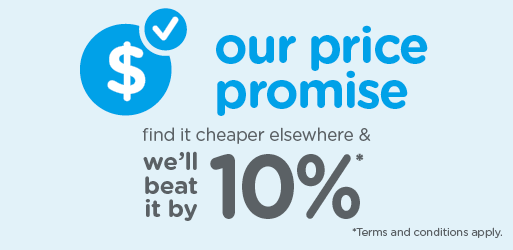 Our Price Promise
We will beat any competitor's price by 10%*
*To be eligible for the Warehouse Stationery Price Promise the purchase must take place within 7 days of the lower price having been advertised.
You'll need to find the same (exact) stocked item from a NZ based retailer and provide proof of price (i.e. a copy of a mailer, quote, press ad, screenshot etc.).
Technology products and online only products will be price matched only. The item must be from a New Zealand based retail store with a .co.nz website and delivered from within NZ only. Price Promise excludes: phone cards, gift cards, vouchers and postage stamps, clearance products, limited quantity products and offers, parallel imports, store opening deals at our store(s) or at our competitors' stores, daily deals websites, commercial quantities, stock liquidations, direct from supplier purchases and price comparisons to any overseas based company.
Product guarantee
All Warehouse Stationery products are guaranteed. If you receive a faulty product, we'll replace or repair it. Alternatively, we'll credit your account.
Whilst most general stationery items are covered by our Warehouse Stationery guarantee, some items such as computer equipment are covered by manufacturer warranty.