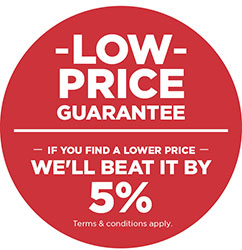 Low price guarantee: terms & conditions
To qualify for our "Beat it by 5%" guarantee, a lower price product found at a competitor store must be:
the identical model
a standard stocked item
in stock at our store and the competitor's store at the time of price comparison.
If seeking a refund, your claim must be lodged within 7 days of purchase. Proof of the competitor's current advertised price and an original sales receipt are required if requesting a refund.
Excludes:
gift cards
vouchers
phone cards
parallel imported products

daily deal websites
overseas retailers
commercial quantities

stock liquidations
limited quantity offers
direct-from-supplier purchases
Products reduced in price cannot be combined with any other Warehouse Stationery or competitor promotion or trade terms.
Product guarantee
All Warehouse Stationery products are guaranteed. If you receive a faulty product, we'll replace or repair it. Alternatively, we'll credit your account.
Whilst most general stationery items are covered by our Warehouse Stationery guarantee, some items such as computer equipment are covered by manufacturer warranty.
Ink & Toner In Stock guarantee
All ranged ink and toner always in stock or $20 off your next purchase of that cartridge when it becomes available. The cartridge is free if the ticketed price is less than $20. Ink and toner range varies by store. Excludes clearance items and commercial purchase volumes. Limit one claim per customer per 30 days. Applies to in store purchases only.