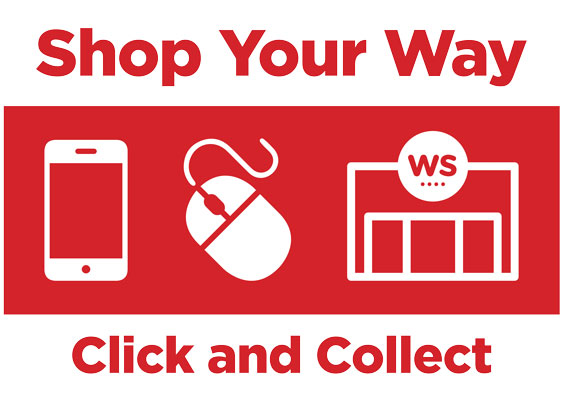 Delivery Information
Click & Collect combines the convenience of online ordering with picking up your goods in-store when you're out and about. We'll send you an email when your order is ready to collect. No more missed couriers!
Eligible products
You can order anything online from our entire range to pick up in-store - except some flagged products which ship directly from a supplier.
Pick up anytime within 3 weeks
Your order will sit ready for pick up for up to 3 weeks from the time we email you it's ready to collect. After 3 weeks, we usually refund you and return the goods to our fulfilment centre. If you need the 3-week pick-up period extended, please contact us.
Frequently asked questions
How much does it cost?
Click & Collect is a completely free service!
Why does it take 3-5 days before my order is ready to collect?
It takes 3-5 days to pick your order at our fulfilment centre and to ship it to your nearest store.
In the same online order, can I choose to have some items delivered and collect others?
Yes. In your cart, specify which items you want delivered and those you want to collect. We'll charge one delivery/handling fee of $7 covering the delivery and items for collect. For large items like office furniture, an oversize fee will apply. These amounts will display in your cart before you place your order. There is no delivery/handling fee for the items that are collected in store.
Is ID needed to collect?
Yes, the person collecting the goods needs to show ID. Acceptable ID types are photo IDs such as:
New Zealand driver's licence
Passport
18+ card
Photo Credit Card
Can I click & collect oversized items?
Yes. There are no additional charges to Click & Collect oversize items.
Can someone else collect my shopping for me?
Yes, if they have the order confirmation and a photo ID.
Delivery Options
Want your order delivered directly to your door? Click here to find out more about our delivery options and charges.