About Us
Our Business
Warehouse Stationery has changed the face of New Zealand's retail stationery marketplace.
We've grown from 8 stores in 1995 to 67 stores from Kerikeri to Invercargill in 2016.
In 2001 we launched this web site which means you have 68 Warehouse Stationery stores to shop at.
Our multi-channel retail experience means you or your business can shop in-store or anytime online. You can click & collect if you choose.
Warehouse Stationery has almost 20,000 products across multiple categories including Office Supplies, School Supplies, Fashion stationery, Technology, Furniture, Art & Craft, Ink & Toner as well as an extensive Print & Copy service solutions.
Our Core Purpose
We set out with one simple concept in mind: put the customer first, and let every business activity and consideration flow from that principle.
At Warehouse Stationery, we work together well and our team spirit shines through … we enjoy our success and we aim to keep our customers satisfied.
Our vision and values
Our vision and values help us achieve our core purpose and the pledge we make to our customers.
At Warehouse Stationery, we want to be famous for being passionate about making a difference.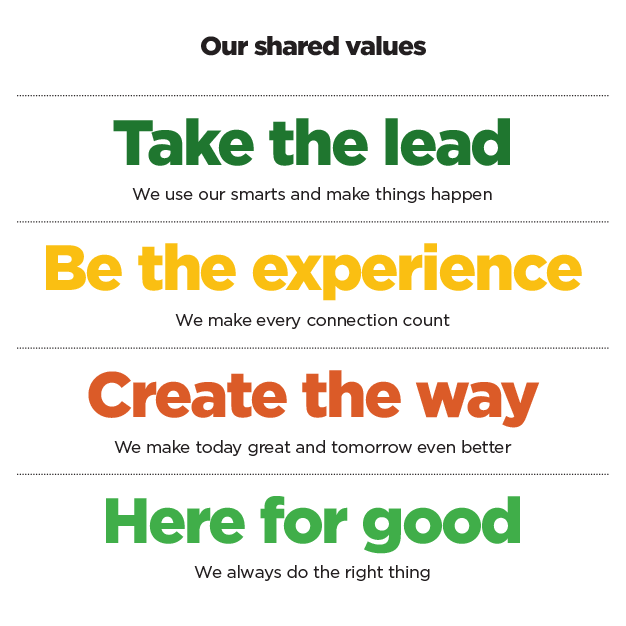 Our History
Warehouse Stationery has enjoyed huge growth since opening its first store in Wairau Park, Glenfield in October 1991.
We have revolutionised the stationery retail business in New Zealand by replacing the traditional stationer with the larger format stationery supermarket concept. Our customers can conveniently purchase all their stationery, office products, technology and furniture requirements under the one roof.
We are continually looking to drive new initiatives in the stationery, office products and related services markets. We have stores nationwide and are continuously improving our web store to offer the best possible service to our customers. In 2010 we launched our improved Business to Business initiative providing business customers with an exclusive rewards programme, free delivery for most online orders over $40 excl GST and delivery direct to their door.
The success of our business has been significant. Our annual sales growth figures are consistently well in excess of industry averages. The future continues to look exciting and we are constantly exploring new innovations and opportunities. We look forward to you sharing this future with us!
Retail Employer of the year (Medium category).

IBM Kenexa Best Workplaces Awards in Enterprise Workplace (750 or more employees) - Finalist

Launch of the art and creativity club - Inspiration Station.

No.1 in Back to School products.

Expanded our soft plastics recycling programme to Hamilton and Canterbury.
Retail Employer of the year (Medium category)

IBM Kenexa Best Workplaces Awards in Customer Engagement - Finalist

Continue to be No.1 in Back to School products.

First Warehouse Stationery stores opened within The Warehouse store, providing the same Warehouse Stationery team, with extended hours and providing convenience with the option to shop ranges from both The Warehouse and Warehouse Stationery.

Combining Warehouse Stationery and The Warehouse under one roof at the Airport and Rolleston in Canterbury.
No.1 in Back to School products

Introduced personalisation into the Wairau store.

Expanded Store-within-a-store concept to Glenfield in Auckland, Te Rapa in Hamilton and Fraser Cove in Tauranga.
Relaunched the art and creativity club – Inspiration Station.

In February, Warehouse Stationery broke the Back to School fundraiser record, raising more than $80,000 for families who turn to Salvation Army and struggle with the costs associated with back to school.

Launched 5 more Warehouse Stationery Ltd stores within The Warehouse as of June 2019.

In July we launched our first Warehouse Stationery Business Hub store to make it even easier for our business customers to shop with us.
Warehouse Stationery's continued commitment to play our part by taking responsibility for the impact we have on the environment and steer a path for others to follow, saw the first-to-market launch of Wheat Paper, one of the most environmentally friendly copy papers in New Zealand.

Warehouse Stationery opened a new store-within-a-store at The Warehouse Lunn Avenue in May.

Warehouse Stationery launched The Small Business Shout Out to celebrate and show our support for the small businesses that drive our economy.
Need Assistance? Our Customer Services team can help:
Call 0800 222 246 (toll free) 8.00am – 6.00pm Monday to Friday