how to make the most of your photos
As a nation, we are taking more photos now than ever before, but have you ever wondered what to do with them all? Our camera rolls are constantly full and we're always searching for more digital storage options, but wouldn't it be great to avoid all that stress by printing your favourite snaps in a range of options and displaying them around your house or gifting them to your friends and family.
The options for printing photos are endless and depending on what you're looking for there's a solution to suit all purposes and occasions.
Printing photos
Nothing beats printing your photos and seeing them in the flesh. This is a great way to relive your favourite memories with your family and friends. It's a great idea to print by theme or event, then your photos are already grouped, and you can choose the best ones to keep or display.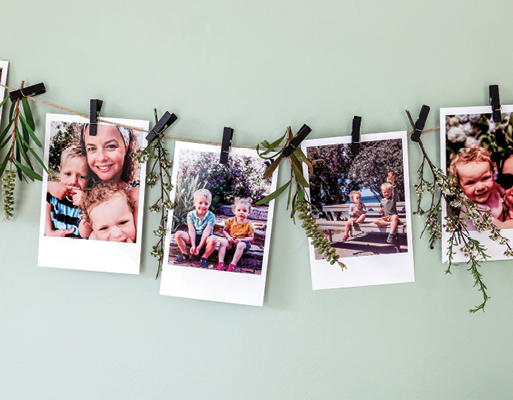 Photo albums
Photo albums still have a place in our hearts, and nothing beats reminiscing about a past event with your family around you. Albums allow you to secure your photos in sequence order and add notes in the margins and on the page to remind you of all the details for the future.
Photo frames
Enlarge your favourite photos and display in frames brings a personal touch to your walls. You can enlarge photos up to poster size, if your resolution is high enough so the opportunities for displaying photos in frames are endless.
Print on canvas
Canvas printing is a popular trend. When opting to print on more than one canvas to hang together on your wall, choose photos with a similar theme or colour palette, or for a more minimalist look convert your photos to black & white and display in a grid.
Kids art
Ever wondered what to do with kid's art from school? Simply take a photo of the artwork with your phone then print as a photo or onto a canvas. Choose the art that looks he most abstract, and ideally with a lot of white space and display them in a tidy row. Kids art makes great gifts for family members too.
Get creative with photo projects
There are so many creative projects that enable you to display your favourite photos in stylish and fun ways. These include giant poster displays, hanging wall banners, photo nature garlands, and collages. Click here for 'how to' videos and more inspirational images.
Photo books
Sorting your favourite photos into events such as a holiday or a wedding, or into calendar years and then printing them in a photo book is a great way to capture memories. Photo books make lovely gifts and take up less storage than a traditional photo album. When creating photo books, you have the option to add headings, callouts and embellishment to really add your own personal touch.