Impact Storage Box Foolscap White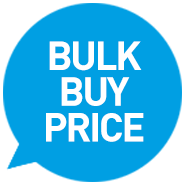 Details
https://www.warehousestationery.co.nz/product/W2226648.html
Buy 5 or more of Impact Storage Box Foolscap Kraft or White for $1.61 each
$5 off every $50 you spend Sitewide - Online Only
Conditions Apply
$5 off every $50 you spend Sitewide - Online Only
$5 off every $50 you spend sitewide up to $2,000. Online Only. Excludes gift vouchers, iTunes, software, freight, donations, phone top-ups, phone cards, prepaid postal, fotofinish, wsprint, printicular and insurance policies.
-
Product Actions
---
Product Description
Impact F/C white - Great storage option for your filing needs
Features & Benefits
Foolscap White
L 372 x W 241 x D 82mm
Comes flat and easy to assemble
Order 50 to receive one bundle
Quality of this product is average and price is reasonable.
October 17, 2018
Purchased
10 months ago
Foolscap Storage Box - ok
We do buy these boxes, however the size has changed over the years and they slightly TOO BIG for our storage shelves (the old ones fit fine!) However, good value for money
August 23, 2018
Purchased
1 year ago