Impact Fluro Sticky Notes 76mm x 76mm 5 Pack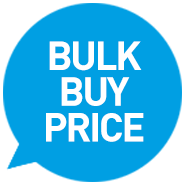 Details
https://www.warehousestationery.co.nz/product/W2238704.html
Buy 5 or more of Impact Fluro Sticky Notes 76mm x 76mm 5 Pack for $8.09 each
$5 off every $50 you spend Sitewide - Online Only
Conditions Apply
$5 off every $50 you spend Sitewide - Online Only
$5 off every $50 you spend sitewide up to $2,000. Online Only. Excludes gift vouchers, iTunes, software, freight, donations, phone top-ups, phone cards, prepaid postal, fotofinish, wsprint, printicular and insurance policies.
-
Product Actions
Product Description
Impact Sticky Note 76mm x 76mm 5x100 Sheet Fluro
Features & Benefits
76mm x 76mm
Multi coloured notes
5 pack
100 sheets each
Cheaper option
These are just as good as the Post-it brand but half the price which is great as we are trying to keep costs down.
November 11, 2018
Purchased
8 months ago