Newcoat International
Adrian Munt
Who you are and what type of business do you own?
Newcoat is made up of a group of the most amazing people I know. Even when I was planning this business so many people heard of what I was doing and came in and gave me a hand and shared some ideas. I had an army of volunteers to help set up the factory, pack stuff and bottle product. Even my 86year old Aunt came in to help! We now employ a small team. We all know each other's families so work time has become a fun time.
We started this business less than a year ago and only launched in February (Great timing I know!) Newcoat International makes products that help you clean your car easier and less often. We have an automotive range that includes Ceramic Coatings, like a non-stick surface for your car. We also have a full range of care products including our Waterless Car Wash - which is like a spray and wipe for your car. It is quick and easy and uses no water - ideal for the water restrictions that much of the country is facing.
Our main product (the Ceramic Coating and Auto+Aid Vehicle Detailing Kit) is sold through new car dealers and specialist car valet firms. All our care products including Waterless Car Wash are also available online to the public.
What was the first thing you did when you realised the pandemic was about to affect your business?
When I realised the pandemic was about to hit us, we had to call our travelling sales team to head back home. We were able to assure them their jobs would be safe, if we all worked together and got through this unsettling time. Fortunately, all our teams are already used to working remotely. We shifted focus from "Selling Stuff" to getting to know our customers better and vice versa. We felt that no-one wants to be sold to during a pandemic, so focussed our energy on ways to improve our communications for the future. We got stuck into making tutorial videos for our products. We did online courses on how to better use technology, like zoom, to successfully communicate remotely with our clients. We looked at ways we could diversify, by reviewing our strategy to get us less reliant on face to face selling, and provide products and services that people will need in this "new normal" environment.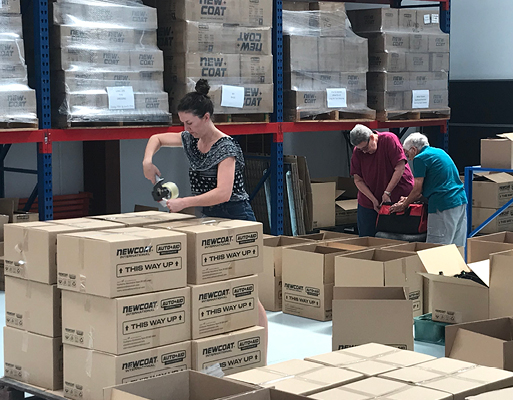 What are you doing right now that you weren't doing a month ago?
The pandemic has made us think outside the box. We are now very effective with zoom meetings and can remotely train and support our customers and applicators. We have developed ways to help our clients with extended credit terms and reducing minimum order quantities and price breaks. Most importantly we have brought forward our international plans so we can effectively sell to more people. We have expanded our offering in Australia and are negotiating deals in England, North America and Singapore. We believe that if we can sell in multiple markets, even if it's just a little in a lot of places, we can keep our teams here in New Zealand busy.
What challenges are you concerned about in the weeks and months ahead?
We know our market will be seriously affected. We rely on people buying new cars and then buying our product. As happened with the GFC, we expect a significant dip in new car sales. We also expect peoples discretionary spending will be less, so our after-care product sales will be lower. Our biggest concern is a second wave of Covid-19. This would do irreparable damage to the economy but most of all, will shatter people's confidence, so they stop spending. We know that a clean and shiny car is irrelevant if you cannot feed your family.
What opportunities do you see coming out of this situation?
Above all else the pandemic has allowed us the time to stop and think more about our customers - what they want, and how we can solve their problems better. Our Waterless Car Wash, for example, is a fantastic opportunity, especially with all the water restrictions. Car cleaning can become a 15-minute job without needing to get the hose out! It is so easy even the kids won't complain about doing it.
We now have a stronger mindset around customer service and "thinking like a customer". We are developing a wider range of products to keep other surfaces cleaner for longer with less effort. Watch this space for new products for showers, stainless steel, home exteriors and concrete.