Who you are and what type of business do you own?
Tyre Pro (NZ) is an independent kiwi owned business specialising in wheels, tyres and suspension - located at 28 Barry's Point Road in Takapuna. Our small team of 4 are all experts in this field, and we will always provide the right advice to ensure owners maintain safe vehicles for the road ahead.

What was the first thing you did when you realised the pandemic was about to affect your business?
We quickly met with the team here to discuss and share what this meant for our employees and our valued customers during the government enforced lockdown. We were already using sanitisation processes during earlier alert levels; so, when we moved into levels 3 & 4, we were well equipped to handle things. Our employees' brain stormed ideas on how we could communicate with our customers and worked together as a team to reassure customers that we would be here to help get people moving again just as soon as we were able.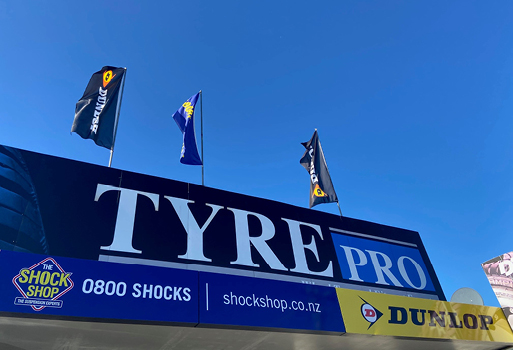 What are you doing right now that you weren't doing a month ago?
We have learned to adapt well as things have evolved quickly. We have needed to change the work hours of our employees during L3 to ensure that we practice social distancing and promote good hygiene processes, and this will carry-on during other levels. Our ability to operate sales in a contactless way is working well, and our customers appreciate having their vehicle sanitised by the team on arrival and when prior to when they take away their pride and joy. We built a brand-new showroom space in the months prior to COVID19, and we can't wait to launch that to our customers and local community.
What challenges are you concerned about in the weeks and months ahead?
A vast majority of customers and businesses will be unsure of things and whether to delay replacement of wheels/ tyres or fix suspension on their vehicle - thinking that might not be priority. Don't be scared about the future – instead, think about what you can do to make it better.
Safety with any vehicle is so important to protect everyone and this may be one of your biggest assets. If you travel the roads with worn tyres or shock absorbers, you will use more fuel and stopping distances during braking are adversely affected. Suspension components are just as important, to ensure that your vehicle operates well, so take the opportunity to have them checked by us for only $49.95 through our Shock Shop, this will save you time and money later on.
How can the community support your business?
Call us on 489-1118
Website: www.tyrepro.co.nz
Email: [email protected]
Address: 28 Barrys Point Road, Takapuna
Auckland 0622
Fax: 489-1123
We are open Monday to Friday and available Saturday by appointment