Win one of 5 Weber BBQs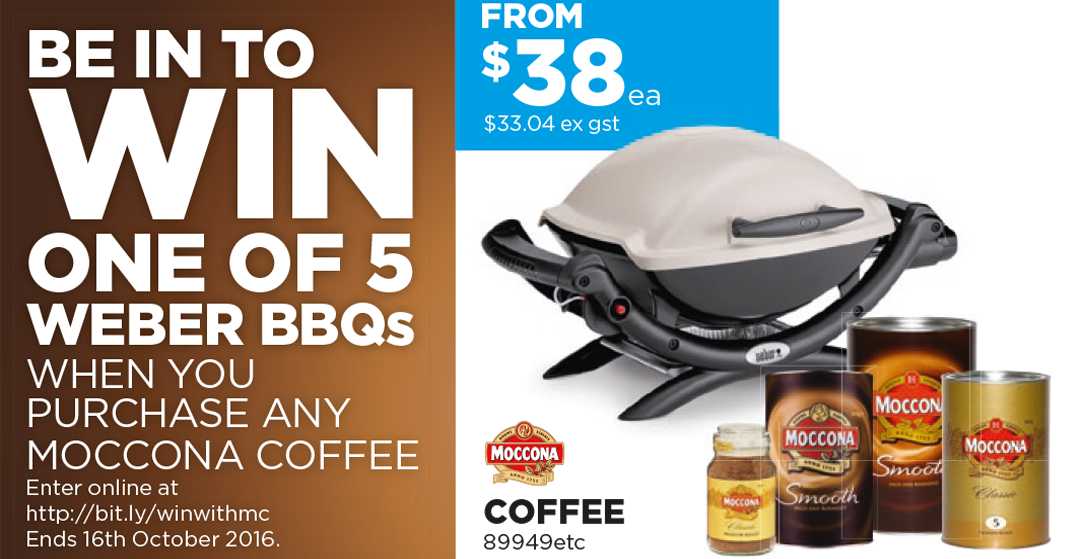 Purchase any Moccona product at Warehouse Stationery (in store or online) during the promotional period to be in to win 1 of 5 Weber BBQs*
*terms and conditions apply, see below for details
Terms and Conditions of Entry
The prizes and how to enter:
The promotional period begins on Monday, 3rd October 2016 and finishes on Sunday, 16th October 2016. The winners will be drawn week commencing Monday, 24th October 2016.
Enter the draw to be in to WIN 1 of 5 Weber BBQs when you purchase any Moccona product and complete the form during the promotional period.
To enter the competition you must, during the promotional period:

Purchase any Moccona product in store or online at Warehouse Stationery;
and complete the form above including proof of purchase.

All completed and valid entries received by midnight on the day of the Entry Deadline (Sunday, 16th October 2016) will be entered into the prize draw.
One entry per unique transaction.
5 winners will be drawn. Each of those winners will win a Weber BBQ.
The Winners will be contacted by phone or email in the week commencing Monday, 24th October 2016 between the hours of 9am and 5pm, using the details that are provided on the online entry form.
In the event that a prize winner is not able to be contacted by Friday 28th October 2016, or cannot validate their entry within 5 working days of being contacted, the prize will be redrawn on Monday, 31st October 2016 on the same terms as the original draw.
Arrangements for delivery, pick up or otherwise of the winners prize will be by mutual arrangement between The Promoter and the winner.
The winner must agree to their name, region and photo being published on www.warehousestationery.co.nz and in other marketing material produced by Warehouse Stationery, and to any publicity Warehouse Stationery requires as part of receiving their prize. The winner agrees to make themselves reasonably available for this purpose, without compensation.
The winner agrees to grant Warehouse Stationery a perpetual and non-exclusive license to use their entries in all media and the winner will not be entitled to any fee for such use.

Additional terms and Conditions

Prizes are courtesy of Warehouse Stationery and in conjunction with participating suppliers.
Entry into this competition is deemed acceptance of any applicable Terms and Conditions.
Entry is open to all residents of New Zealand except for employees and their immediate families of The Warehouse Group Limited and its subsidiaries and entities.
Any entrant who is under the age of 18 years must have their parent or legal guardian's permission to enter the promotion.
Warehouse Stationery reserves the right to extend, postpone, or cancel a competition and to update the terms and conditions without notice.
All entries become the property of Warehouse Stationery.
Warehouse Stationery may be required by law to disclose any of the information that you provide. Warehouse Stationery will only make the disclosure if it believes, in good faith, that it is required to do so.
Warehouse Stationery's decision in relation to any aspect of the promotion is final and binding on every person who enters, and no correspondence will be entered into.
Prizes are not transferrable or exchangeable and cannot be redeemed for cash. Warehouse Stationery accepts no responsibility for any variation in prize value.
Warehouse Stationery accepts no responsibility for any tax implications that may arise from acceptance of the prize winnings. Independent financial advice should be sought.
In the event that for any reason whatsoever a winner does not take the prize at the time stipulated by The Promoter, that prize will be forfeited by the winner and cash will not be awarded in lieu of that prize.
Any product images or photos used in promotional material for this competition either in store or online are indicative only.
Winners will be randomly selected by Warehouse Stationery.
If the winner is under 18 years of age at the closing date of the competition, the prize will be awarded to the winner's parent or legal guardian on the winner's behalf.
Warehouse Stationery reserves the right to verify the validity of entries and to disqualify any entry or refuse to award a prize where false or misleading details have been given by an entrant or an entrant has behaved in a fraudulent or dishonest manner, or otherwise than in accordance with these Terms and Conditions of Entry or the spirit of the promotion.
Warehouse Stationery and any other agencies associated with this promotion will not be responsible for any late, lost or misdirected entries, including but not limited to entries not received due to technical problems.
Warehouse Stationery and any other agencies associated with this promotion will not be liable for any loss or damage whatsoever which may be sustained, directly or indirectly, or for any personal injury suffered or sustained by any entrant or prizewinner in connection with any product purchased for this competition or any prize, except for any liability which cannot be excluded by law.
Warehouse Stationery will destroy all entries once all prizes have been claimed, with the exception of information provided by entrants who request receipt of further promotional material from Warehouse Stationery.
These terms and conditions are governed by the laws of New Zealand.